Three (Brilliant) Reasons to Work
With an Art Consultant When Acquiring Art
Through An Auction House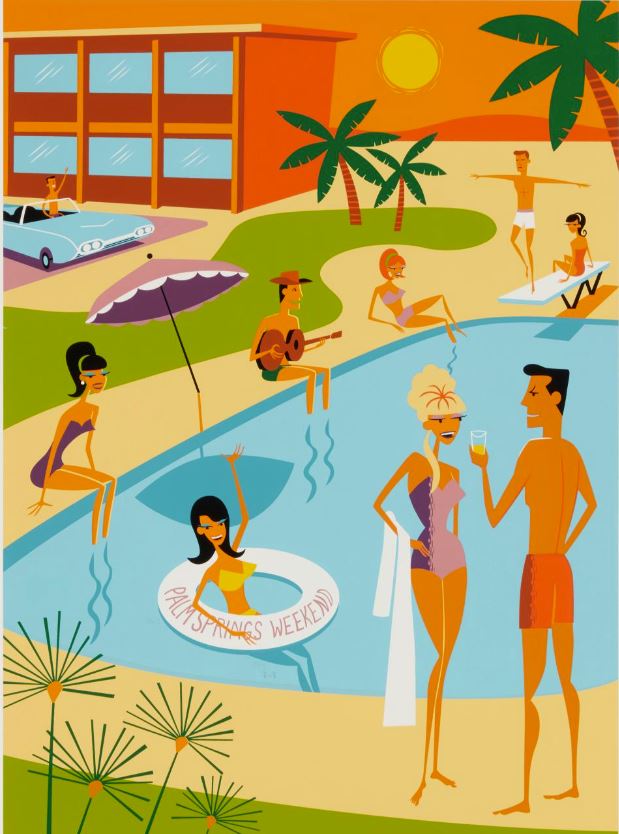 If you've seen the rise in competitive socializing, from pickelball through axe throwing, topgolf and the other similar forms of entertainment, you can appreciate what it's like to participate in an art auction.
Also, if you've ever been to a warehouse clothing sale, or gone in person to a store on Black Friday or the day after Christmas, you're even closer to the art auction experience.
Everything seems to be on sale, there's a buzz in the air, and the competition is ready to pounce on "your" item if you can't beat them to it.
Enter the art auction.  The items are displayed online and in person in advance of the sale.  You can view them and you can start imagining owning them.
Opening bids seem to be at low prices, and you can search for a specific artist for a piece you'd like to bid on.
Or you can scroll through the catalogue, or walk the items in the pre-auction area, and spot something that makes you desire it.
You sign up to be a bidder on the auction.  You imagine the price you're willing to pay.  You can already feel the excitement.  What can go wrong?
With art auctions, there are three things that can happen that may make you want to use an art consultant to represent you for the auction.
First, an art consultant can help you determine if the minimum bid is really a bargain for that artist and for that form of art. 
Art auctions can include original art, lithographs, limited series pieces, open series pieces, and of course, the infamous giclees, which are just copies made on an ink-jet printer.
Beyond the form of art, just because the piece is at auction does not mean it's on sale.  It just means it's for sale.
Many artists grow in value immensely through having a piece go to auction and sell for far beyond the price they are commanding for their art when they sell it directly, or in a gallery, at that time.  When a piece goes well at auction, the artist then often raises their prices on all their existing pieces and all their future work.  It's part of the art market system.
So if you find an artist you like, your art consultant may be able to get you a piece of that artist's work from another source prior to the auction and you may pay less than the minimum bid without having to compete for it.
Second, auctions have many items at one auction and it can be hours before your item comes up for bidding.
If you want to see the entire auction, that can be an exciting way to spend three or four hours.  In person or online, it's fun to watch what is selling, what is getting multiple bids, which lots are passed (meaning no bidders or not a high enough bid) and which items are sold – particularly if they go far above the estimated bid amount!
However, if you have a job, or have kids to pick up or drop off, or have a class, or aren't interested in watching the auction and simply want to own the item, you are better off to ask your art consultant to bid on it as your representative.
It is then the consultant's job to ensure that they are attentive to which lots are coming up and to be ready to bid when your lot opens.  After the hours of waiting, the actual bidding process for a single lot typically takes just a few minutes and it's over. (I realize they make it look a lot longer, and more titillating, in movies.)
The auctioneers are business people.  They put the lot up, they call for bids, they ask for higher bids and when those stop coming, they do a brief warning and hammer the item closed.
Third, and perhaps most important, the auction action brings out a competitive spirit through which the bidder may go over the highest amount they had been willing to spend.
Auctions do make the bidders feel competitive.  Let's say you had seen an item you wanted and determined that if you could get it for $9,000, that would be a great price.
As the bidding begins, perhaps at $6,500, you hope there will be no other bidders and you will leave as the winner and feeling that you got a "steal" of a price on it.  Then, as it rises, you bid again at $7,000, then, with just one other bidder remaining, you bid against their increase at $7,500, then $8,500.
Now you're getting nervous, but kind of excited nervous.  Then your competitor bids $9,000. Well!!  You're not letting them get one over on you!!  So you bid $9,500 and wait.  And at the last minute, your competitor bids $10,500.  You really thought $9,000 was a bargain price to begin with, so you bid $11,500.  You're fine with that.  Then, they bid $12,000.  So naturally, you bid $12,500.  Then they bid $13,000, so you bid $13,500 to show them you mean business.  Then they stop bidding.  The auctioneer warns the bidders, and with no further response, drops the hammer on your bid of $13,500.
Oh.
And of course, the auction house has a 10 percent seller's fee above the hammer price.  And your credit card number is with them as part of your auction bidder registration.  So now, rather than paying a total of the $9,000 plus $900 sellers commission you'd intended to bid, you're paying $13,500 plus $1,350, so basically $15,000.  Oops.  Hopefully you really love the artwork.
Instead, you can ask your art consultant to bid for you and discuss the highest bid you're comfortable with in advance.  Your consultant will only bid up to the amount that they've been given your blessing to bid.  If it goes higher, the consultant will drop out.
On my most recent representation as the art consultant for one of my Clients, the piece pictured in this post, went for 20 percent more than my client had pre-determined she was willing to pay.  I, of course, had stopped at the highest number my Client had approved, and we did not get that piece.
When I called to let my Client (who was at work during the four-hour auction) know that we had not won the piece, and that it had gone for 20 percent more, the Client said "Okay!  That was still fun! It was like buying a lottery ticket and thinking I had a chance of winning!"  We both know there will be other opportunities in the future.
If you're planning to buy art through an auction, feel free to contact me to represent you.  Or, if you're wondering why I use a capital "C" on the word Client, contact me to find out what luxury service and Client respect mean in my art consulting practice.