What Are Five Reasons Buying Art
Is Not Like Shopping for Clothes?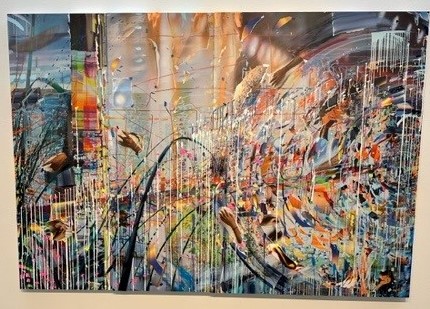 As an art consultant, people have asked me if they need a consultant to buy art.
Of course, the answer is "no."  People do not need an art consultant, but many of them want an art consultant.
Why?  Well, think about people who use personal shoppers to help them select clothing, or other people who have a personal shopper for rare cars or boats or jewelry.
There are two reasons personal shoppers can be helpful.
The first is confidence in what you buy.  A professional in fashion can certainly help you find clothing that looks good on you, that is in style for the coming season, and that perhaps is a different style than you would typically look at, that delights you when you are shown that piece.
The second is that it's a luxury to have someone who will save you many, many hours to find selections for you.  They will know how new pieces can work into your existing wardrobe, (or car collection) and are shapes and colors (or makes and models) that the consultant knows you tend to like.
The same can be said of an art consultant.  They can understand your taste, what's new in the art world, what goes with your space, what works with your existing collection, and which new artists may delight you.
However, shopping for art is not like shopping for clothes.  Why?
There are no art department stores
While department stores may or may not be enticing to everyone, we all know that if we're having a fashion emergency, a department store trip will often be the easiest place to ensure that there's at least one thing there that will fit the bill.
Not so with art.
Art galleries purposefully have a point of view and a point of difference.  They're much more like boutiques or single-branded stores.  Therefore, if you're confident that the art you want is within that gallery's style or the artist you seek is represented by that gallery, you can find what you want.
However, if you are not certain what you want, or if you're purposely seeking art that is new to you and different than what you already own, going to one gallery may not yield the result you're after.
There are no art malls
Beyond the range of choices offered at a department store, there are clearly no shopping centers featuring only art.  There are streets where art galleries are clustered, yet that often means there are five or ten of them near one another.
If you're shopping for clothes, or even just window shopping, five or ten stores isn't particularly exciting. Most people would prefer to find 40 or more stores.
In the gallery world, there are very few locations that offer a wide range within easy walking distance.  In New York, Chelsea has the largest walkable collection of galleries.  Even there, nearly all the galleries are selling art in the $250,000+ range.  So it's fun for window shopping, yet it's a bit like just going to Rodeo Drive or Mykonos or other "high-streets."  You need to think about whether you're that kind of serious spender.
The closest you can come to an art mall is an art fair.  At art fairs, you can travel from booth to booth, and find as many as 100+ galleries in one location!
And while art fairs are truly wonderful in their variety and quantity, there is likely just one per year in a city near you.  Imagine trying to buy clothes at a single shopping center that was only open for four days a year!  Fun perhaps, but a bit pressured!
Art doesn't change every season
Clothing, even if it's high quality, mostly goes out of style.  And it certainly goes out of season every few months.
But art is forever!! In fact, a work of art can be fascinating hundreds or thousands of years later.  That fact can make purchasing art seem more daunting, since it's somewhat permanent.
For typical clothing, you might buy something that's very trendy knowing it will go out of style, or you might buy something a bit delicate, either in material or color, and be aware that it won't really last over time.
However, while art is great because you can keep it and enjoy it for decades, you can also gift it to a relative, move it to a different room in your home or commercial property, put it in a second home or satellite location, donate it to charity, or in many cases, it can be resold.
Remembering that art can stay with you should be comforting when searching for art, as the dollars spent can be amortized in your mind over all the years you keep it.
Still, it's not as though you're sentenced for life.  Tastes can change, your collection may become more specific, or you may just downsize your physical space and have more art than you can display.  You are not "stuck" with your art, but you can be stuck on it and love it for as long as you like!
Because you will likely keep the art for many years, you should be really excited about your acquisition!  You should feel that the piece speaks to you and that you can enjoy seeing it again and again.
And if someday you don't feel that way about a specific painting or sculpture, it's okay!  If you selected well, someone else will want it.
Art is not "age-appropriate"
Good art is appropriate at any age.  Original art, whether or not it's expensive, can be great for young people and for mature people.
While young people in apartments often have pretty inexpensive art — as that is often the only thing they can afford — quality art from emerging artists can also be found at very low prices.   There's never an excuse for the cheap knock-off in art.
I'm following an artist living in Houston who is selling gorgeous work for less than $400 as she is not yet "recognized" by an art gallery or a museum.  The work is still high quality, both in its concepts and in its execution.  It just doesn't cost as much as work by established artists.
So people can own good original art at a lower price if they can find it.  Perhaps they will love it more over the decades, and the artist may indeed become more widely known.
Collectors with larger budgets may select this same type of work because they find the art exciting and desirable.
Alternately, this may be one of the toughest parts of acquiring art if one is newer to that passion.  You have to be pretty confident to see inexpensive art pieces and have a feel for whether they will be incongruous in a luxury home or luxury commercial real estate project.
Because owning a piece of art, be it an inexpensive piece from an emerging artist, or a masterpiece by an established artist, is appropriate at any age.
That can't really be said of clothing.  We've likely all seen people trying to "dress young," in inexpensive clothes and simply looking silly.
Clothing is not purchased with the thought that it can be sold later for more money
Admittedly, if you bought an early Chanel or an early anybody, and held it for decades with careful care, you may now have a vintage piece that you can sell for more than you paid for it.
Conversely, with art, you should anticipate that if you've chosen well, the art may rise in value within a few years or at least within one decade.
Few people actually buy clothing for its future value.
With art, lots of people buy art specifically for its future value.
This is not the basis on which I generally recommend acquiring art for your home or your commercial property.  Yes, the art will likely appreciate over time, yet it should be acquired for its current purpose – the value it will bring to you and to others when they see it!
For those who are specifically seeking investment art, they will most certainly benefit from working with an art consultant who can help them understand the past or anticipated trajectory of an artist, its market price and whether that is on the rise or the decline, and its provenance.  Few of these "art as an asset" collectors work solely on their own knowledge.
For the collector who is acquiring art to enjoy it, rather than to sell it, the value proposition is different.  You should love the art you're buying, and know that if it's rare or it's an original, it will not only bring you happiness today, but can be financially beneficial if you do decide that later, you'd prefer to sell it and buy something else!